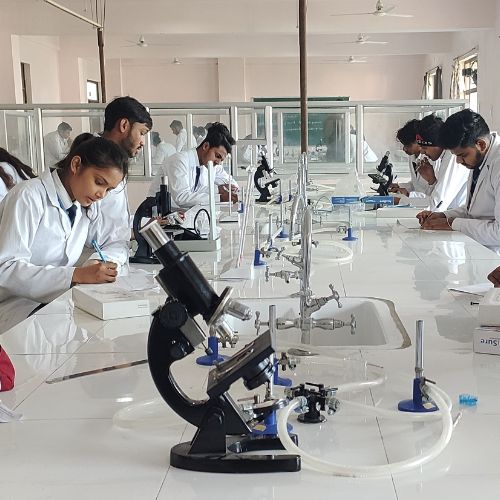 We have 14 well-planned and designed laboratories for hassle-free, practical work. The laboratories are well-equipped with modern instruments and other infrastructure required for day-to-day practical training. Every student is given individual attention and the infrastructure is sufficient to cater to individual requirements.
A few of our major laboratories are:
The pharmaceutical Chemistry Lab is meant for testing and identification of impurities; synthesis and purification of chemical compounds; analysis of biological samples like urine, blood, etc.
Medicinal Chemistry Lab is meant for the synthesis, purification, and identification of medicinally active compounds.
Pharmaceutical Analysis Lab is suitable for analysis, quality assessment, and quality control studies of drugs on finished products.
Pharmacognosy Lab is involved in providing the basic skills to the students, required to identify crude drugs and adulterants with the help of conventional and advanced analytical techniques. The lab is also suitable for the extraction, isolation, purification, and characterization of natural compounds from medicinal plants and for conducting plant tissue culture. The lab is equipped with modern instruments like Rotary Evaporator (Buchi Type), Infrared Moisture Balance, Muffle Furnace and B.O.D. Incubator, Refrigerated Microcentrifuge, Sonicator, Plant Tissue Culture Station, Laminar Air Flow Station, etc. The Laboratory also houses more than 150 of the rarest crude drugs sample.
Pharmacology Lab In-vitro and in-vivo studies of the pharmacological effect of drugs and their extract on experimental animals are conducted. It is also suitable for conducting bioassays for determining the strength of the drugs. The lab is most suitable for the purpose of screening new drug molecules for pharmacological and side effects of drugs.
Pharmaceutics Lab is suitable for carrying out activities pertaining to the formulation and evaluation of various pharmaceutical dosage forms. It is also suitable for developing novel drug delivery systems, controlled release formulations, stability studies, and accelerated stability studies of pharmaceutical dosage forms.
The pharmaceutical Microbiology laboratory with its attached aseptic room as per GLP guidelines is suitable for the preparation and sterilization of culture media both for static and broth cultures. It is also used for staining and identification of bacteria and fungi. The lab is also suitable for the evaluation of antiseptics and disinfectants, for the determination of phenol coefficient, a microbial assay of vitamins, antibiotics, etc.
Machine Room (Pharmaceutics Laboratory) has an attached machine room equipped with all the modern equipment and instruments related to the production and in-house quality control of tablets, capsules, liquids, and injectables. The Major equipment like All-purpose equipment, Automatic tablet punching machine, Humidity chamber, Liquid filling and sealing machines, Ampule filling, and sealing machines, Drying ovens, Capsule filling, Collapsible tube cramping machines, Dry granulators, Triple roller mills, Ball mills, etc.
The anatomy and Physiology Laboratory is meant for anatomical, histological, and histopathological studies of cells and tissues of various organs. Many models and charts of various systems are available for an easy understanding of human physiology. Various hematological and serological examinations can also be carried out in this lab.
Computer Lab of KSOP has a separate computer lab with 40 high-end configuration computers outfitted with advanced software and broadband internet connectivity. The laboratory is meant for learning and conducting practicals as per the syllabus. It is also used by all the students and faculty for their presentations and for ready retrieval of information using www.The 
Pharmaceutical Biotechnology laboratory is meant for the isolation and purification of DNA and RNA from plants and animals. Various types of in vitro plant tissue culture studies are carried out to develop callus and cell suspension cultures. Gel electrophoresis can be carried out in this lab. The laboratory is attached to a humidity and temperature-controlled culture room.
Central Instrumentation Facility (CIF) is developed at the Faculty of pharmacy to house the advanced, most expensive, sophisticated, analytical instruments like the HPLC system, Double beam UV spectrophotometer with scanning facility, Flame photometer, Lyophyllizer, Brookfield viscometer, Gel Electrophoresis Unit, etc which are required for research studies in pharmacy.